Warrior Labz Super Thermo Blitz DMAA 90 caps
Super Thermo Blitz from Warrior Labz is a powerful fat burner with DMAA ensuring that you can reach your goals quickly and easily! Warrior Labz Super Thermo Blitz are diet capsules that contain DMAA and other powerful ingredients. DMAA fat burner suppresses your appetite while providing you with a lot of energy.
Extremely stimulates thermogenesis in the body
Brutally reduces appetite
Burns excess body fat
Gives the body tremendous strength and energy
Promotes a positive mood
It is one of the most effective fat burners
Practical dosage in capsule form
Super Thermo Blitz DMAA Warrior Labz Ingredients and nutritional information: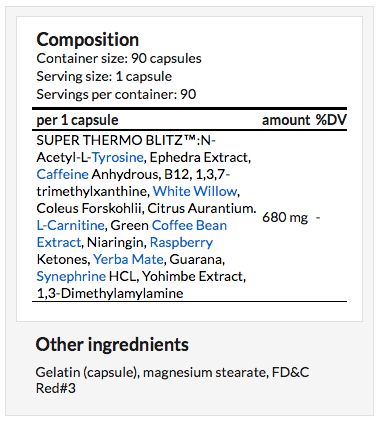 Initially, take only 1 capsule of THERMO BLITZ on an empty stomach before breakfast with 240ml of water for the first three (3) days. From the fourth day, you can take another capsule in 6-8 hours on an empty stomach. If well tolerated, 1 capsule can be added to the morning dose.
Consult your doctor before taking this product. Do not exceed the recommended daily dose. This product should only be consumed by healthy adults over 18 years of age. Food supplements should not be used as a substitute for a balanced and varied diet. Keep out of reach of children. Once opened, store in a cool, dry place.
---
We Also Recommend