Orangefit Protein is a complete source of protein with all important amino acids, including essential ones. It is a completely pure, vegetable protein of European origin, available in five delicious flavors. Premium yellow peas of the highest quality are our real star and an optimal, virginly pure source of easily digestible proteins. The product does not contain animal additives, fillers and artificial sweeteners. Choose from five flavors, flavored with natural vanilla, chocolate, or fruit.
Why quality proteins with important essential amino acids?
Essential amino acids are essential for our body (they cannot make them themselves), so they must be taken in the diet. Our Protein is a very high quality and balanced source of all important essential amino acids, characterized by the optimal content of BCAA, glutamine and lysine, but also arginine, glycine and all other important amino acids. Proteins are generally the main building blocks of the human body. Our whole body is made up of proteins - organs, muscles, skin and hair. So whether you are an athlete or an intellectual, you need your daily protein intake. For basic functioning, movement, energy, peak performance, but also for muscle regeneration and other important daily tasks. With our Orangefit Protein you can be sure that you have enough important amino acids for every day!
Great taste and great feeling
You should feel great after a protein shake. That's why we think it's important not only for Orangefit Protein to taste good and be made from the best ingredients, but also for your body to respond well to it. So no milk sugar, gluten, soy, incomplete sources of protein and artificial sweeteners.
Vanilla and chocolate are classics, many of us can't do without them. But if you have already rolled and chocolateed yours, and you want to choose from other flavors, we also have banana, strawberry and mango / peach for you. At Orangefit, they really tried, no matter what you reach for, you won't make a mistake. They are all top.
Orangefit - Let's create a healthier world!
100% Plant resources - premium quality

Sustainable development - European production + preferably European raw materials (carbon footprint)

Ethical approach - for future generations

Free of artificial sweeteners and synthetic ballast ingredients

GMO free

100% recyclable packaging
Orangefit - Let's Create A Fitter World
Let Orangefit speak for itself: We started in 2014 and even then it was clear that plant sports nutrition is our way. But the vegan sheikhs available at the time tasted as bad as they looked, and traveled to Europe across half the world. So we made a bold determination to change and refresh the plant's sports nutrition. Basically, it's all simple: Our values ​​determine our goal! We want you to feel fit and healthy. And everyone, from athletes to astronauts to house sparrows, can occasionally, regularly or permanently indulge in a healthy alternative to animal products. All this without overburdening our planet unnecessarily. Orangefit wants to create a healthier world!
Mix the world with Orangefit
With our brand, we strive to inspire individuals and communities to live a healthier and more respectful life on the planet. Whether it's prestigious fitness and wellness clubs, top sports centers, healthy lifestyle enthusiasts, the vegan community, or the general public in general. Together we can change habits and make our Mother Earth proud of us. Our furry friends also thank us for that.
The best taste in town
First of all, you will feel fantastic with our cocktails. Forget about animal proteins and their taste. We have developed our products to perfection. So please get acquainted with the best taste in town!
We are reducing the carbon footprint
It's not just about 100% plant resources and omitting animal resources. Where possible, we use ingredients from Europe as the main ingredients and we also manufacture our products here. This makes us significantly different from the so-called global brands, whose goods and raw materials travel around the globe.
Reduce - Recycle - Repeat
Part of our mission for environmental sustainability is to use 100% recyclable packaging. Protein supplement bags are often very difficult to recycle because they are made of multiple types of plastic, sometimes even metal. That is why we have tried very hard and managed to produce single-layer packaging that perfectly preserves the contents, does not break, and at the same time is very easy to recycle.

Velcro - Velcro
Our packaging has patented Velcro zippers, which solve the problem of closure once and for all. Once opened, the bag can be easily resealed airtight, which significantly extends the shelf life of the contents, while protecting it from spillage. Enjoy the convenience of using protein with our Velcro velcro!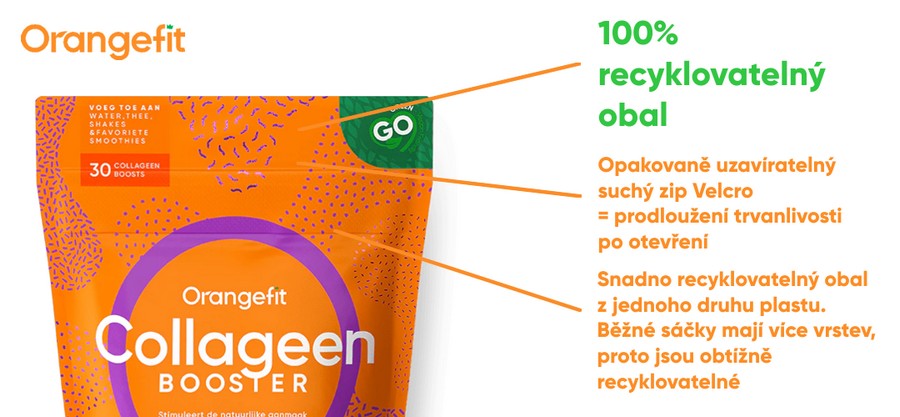 Mix 25 g (approx. 1 scoop) with 300 ml of water or vegetable milk or add eg to a smoothie. Take 1 - 3 scoops daily, anytime during the day. The package contains 40 dosages.
| | |
| --- | --- |
| | |
| | |
| | |
|      of which saturated fatty acids | |
| | |
| | |
| | |
| | |
| | |
| --- | --- |
| | |
| | |
| | |
|      of which saturated fatty acids | |
| | |
| | |
| | |
| | |
| | |
| --- | --- |
| | |
| | |
| | |
|      of which saturated fatty acids | |
| | |
| | |
| | |
| | |
| | |
| --- | --- |
| | |
| | |
| | |
|      of which saturated fatty acids | |
| | |
| | |
| | |
| | |
| | |
| --- | --- |
| | |
| | |
| | |
|      of which saturated fatty acids | |
| | |
| | |
| | |
| | |
Banana flavor
 : pea protein, banana powder, banana flavor, thickener xanthan gum, steviol-glycoside sweetener, beta-carotene dye.
Chocolate flavor
 :  
pea protein, cocoa powder, natural chocolate aroma, xanthan gum thickener, steviol glycoside sweetener.
Strawberry flavor
 :  
pea protein, natural strawberry flavor, strawberry powder, thickener xanthan gum, steviol-glycoside sweetener, beetroot powder dye.
Mango + peach flavor
 : pea protein, mango and peach aroma, mango powder, xanthan gum thickener, steviol glycoside sweetener, vitamin A dye.
Vanilla flavor
 : pea protein, natural vanilla aroma, inulin, thickener xanthan gum, steviol-glycoside sweetener.
Dietary supplement with sweetener (a natural source of stevia). After opening the bag, close it carefully. Do not exceed the recommended daily dose. It does not replace a varied diet. Store in a dry and cool place, out of reach of children. Suitable for vegans. May contain traces of milk, eggs, soy, peanuts and dried nuts.